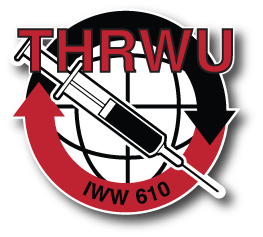 Congratulations to the Toronto Harm Reduction Workers Union (THRWU) IWW 610 for their launch today! Over the last year, harm reduction workers across the city of Toronto have been organizing. They are the kit makers, outreach workers, community workers, and coordinators that reduce the harms associated with bad drug laws, poverty and capitalism. This is the first union for harm reduction workers with over 50 members and growing. AIDS ACTION NOW! supports all harm reduction workers across Toronto, and we look forward to the growth of this innovative union.
Here is a statement from THRWU on who they are:
We are an organization of Harm Reduction Workers who are united together in solidarity, to improve our working conditions and to strengthen equality in the workplace for the betterment of the workers and those who access the services. We are a union of employed and unemployed workers committed to harm reduction with a range of skills, education and lived experience. We have come together in our common concerns to form a non-hierarchical democratic labour union with a commitment to mutual aid, social justice and the principles of harm reduction.
Check out the union's website here: http://thrwu.org/ and help them fundraise here: http://www.gofundme.com/thrwu
Follow THRWU on twitter for updates as they grow: https://twitter.com/THRWU
THRWU: Reducing the harms associated with work! Solidarity forever!