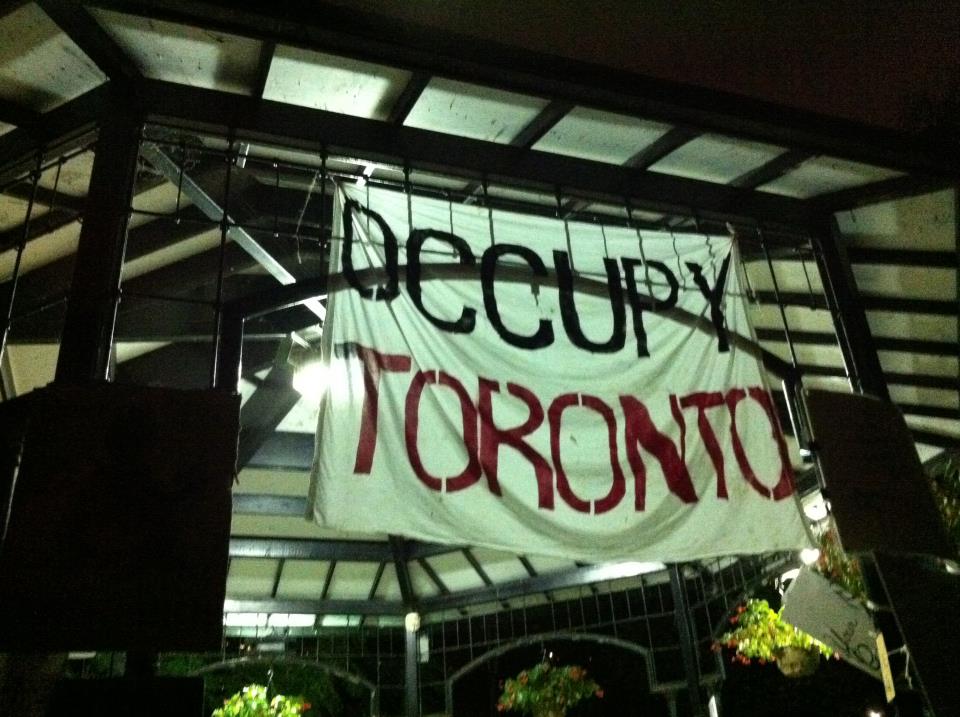 At this moment, in Toronto's St. James Park, sits nestled a tent city, one of many in cities worldwide making up the "Occupy" movement. Occupy Toronto, a camp of well over 150 tents, has been my home away from home now for several days. Friends and family alike have admonished me for heading out to a damp, cold park to huddle in a tent all night while I have been getting over what is perhaps the worst cold in medical history. Being as I am, Hepatitis C and HIV-positive, I tend to feel I'm made of tougher stuff than average and can handle it. So worry-warts aside, I've made a point of discovering my place in this historic and unique event and within the greater global movement.
It can be difficult amongst the discussions of "we are the 99%" to understand what relevance this movement has to me as a queer man living with a dual diagnosis. Is this not just another "protest"? Something about economic disparity and the financial crisis? Mass rage against capitalism? Also, white folks have occupied these lands for hundreds of years already and the language of "occupation" is linked to colonization and war. Well, the truth is as it always tends to be, ephemeral and ever-changing, and my reasons for being here have changed as I have experienced the people's Occupation first-hand.
My initial reasons for going to St. James Park were in part motivated by how I have seen austerity measures, social service cuts and attacks on minorities come down from federal, provincial and municipal governments. Toronto Mayor Rob Ford cut's agenda shook me enough to become aware of how corporate interests of the 1% could easily vilify marginalized groups as an excuse to make cuts and further wealth accumulation to create a widening gulf between those with and those without. Specifically, Ford proposed cuts that would take away funds from AIDS Service Organizations, and this shocked me into consciousness. So often as LGBTQ2S, and/or people living with HIV and AIDS, and Hepatitis C we are in the low end of the 99%, and are the first populations to bear the brunt of cuts and slashes in times of hardship. To paraphrase our mayor, we are the ones most easily targetted and stigmatized as just "gays and IV drug users".
As my first week in the park progressed and I allowed myself to reflect, I wondered, where is "my tribe"? Was this simply a labour or student movement? Safe spaces for other communities have developed, so how come there was nothing for queers?  I often feel that our LGBTQ2S voices are not heard demanding justice in traditional movements. We can often be silenced from within and never taken as more than a small element. At Occupy, again I felt that way - this wasn't a place for me, this was a movement of others, the majority, the 99%. Then I wondered how many other queers were feeling the same way, and if they were, then what could we do to change that?
In keeping with that, a few of us came together to make our queer and poz presence known  in this Occupy movement. Our call was sounded via Twitter, and 19 assorted LGBTQ2S and poz folk gathered in a tent on Saturday night this past weekend to form Occupy The Rainbow TO (#OccupyRainbowTO), the working group for queers at Occupy Toronto. Poz voices were amongst us, and we discussed how we could make our community of queers and people living with HIV and Hep C safe and known within the broader occupation – after all, we are "10% of the 99%" and we need to be heard. We have started off as a small group, and we need more voices and ideas to grow. Discussions have been bandied about of holding a die-in, a queer march, and a "pink block" in official actions, Overall, there is a consensus that more has to be done. Wednesdays at noon and Saturday evenings at 7 PM we meet. I extend an invitation to you to come and be part of the work we are doing, to ensure the voices of our community are acknowledged and part of the greater whole.
The ACT UP slogan from the 1990s, 'Silence = Death' has taken on a new meaning for me at Occupy Toronto. Silence is consent, and personally, I am no longer consenting. I want something better, and I now know many of us do. That's a pretty exciting feeling, and I hope more of us jump in and add your thoughts to the ongoing dialogue at the Occupation. Oh, and by the way, all the cuties are at the Occupation, so if you can't bring yourself down for economics and justice, there are other perks to living in the tents!
See you in the park!
By Jordan B.G., AAN member
Check out Occupy The Rainbow TO on Facebook