Last night AIDS ACTION NOW! launched phase 2 of our Think Twice Campaign against the criminalization of people living with HIV.   We were at the Art Gallery of Ontario for the launch of poster/VIRUS 2012, to celebrate and commemorate a Day Without Art. Our target audience for phase 2: Men who fuck men.   We are urging them to Think Twice before going to the police to make criminal complaints.  Why?  Read all about it …
"At ANN! we have been working for many years to oppose, to fight, to decry the unjust use of the criminal law against people living with HIV.  Against people accused of not disclosing their HIV infection to sexual partners.  The criminal justice system and the mass media would have us believe these people are on par with brutal, violent rapists and mass murderers.
Since June of this year we have been hard at work on our Think Twice Campaign.  The aim of the Think Twice Campaign is to reduce the number of prosecutions and convictions of people living with HIV.  We are going about this by asking the various groups of people who drive criminal investigations and prosecutions to Think Twice about their role, their responsibility.  We are asking people to Think Twice because the logic and momentum and injustice of prosecutions must be brought to an end.  For the sake of justice.  For the sake of people living with and at risk of HIV.  For the sake of all of us.
To date the Think Twice Campaign has targeted Crown Prosecutors—because they play a pivotal role in driving criminal prosecutions.  Those of you who have followed the criminalization of HIV know that in the past year there has been good reason to go after Crown Prosecutors, and their boss, the Attorney General of Ontario.
Tonight we enter the second phase of the Think Twice Campaign.  And you are the target audience—sexually active people, LGBT people, queer people and our allies, friends and loved ones.  People who have progressive values, who understand the importance of art and activism.  And who still espouse values like empathy, compassion and justice.  People who can conceive of themselves outside the strict binary logic of the criminal justice system—a system in which only two types of people count, and are counted: "innocent victims" and "dangerous criminals."
This new phase of the Think Twice Campaign will focus on gay men,  queer men, transmen and other men who fuck men.  Why? Because more and more men are going to the police to lay charges against men living with HIV.  Because with our limited resources, we believe we can reach this group of people.  Because men who fuck other men make up almost half of everyone in Canada living with HIV—think about it, the potential for growth in the number of charges and prosecutions and convictions against gay men is absolutely terrifying.  And because gay men should know better than to think the police and the criminal justice system are our friends, our protectors, or the guardians of our community's values.
So tonight we are asking you to Think Twice.  To Think Twice before going to the police to lay charges.  But also to challenge your friends, acquaintances and lovers to Think Twice about HIV criminalization—its logic, its foundations and its very real harms.  Ask them to Think Twice now, before they are face-to-face with the very real possibility of becoming a "victim" (aka complainant) in a criminal investigation and prosecution of someone living with HIV.  And if and when someone close to you asks you for advice, please ask them to Think Twice before going to the police to lay charges.
And here is what we suggest you ask them to consider—to Think Twice about: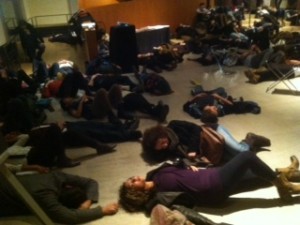 Once they go to the police there is no turning back—there is no way to undo a police investigation.
The criminal justice system is public and full of sensational public spectacle.  They get to play the role of victim in that spectacle, and will be treated like one.
Ask them to Think Twice about the fears and phobias that drive the criminal justice system.  To Think Twice about the inherent misogyny, homophobia, heterosexism, transphobia and racism.  About the institutionalized violence against sex workers, Black men and other men of colour, the mentally ill.  And about the criminal justice system's colonizing and genocidal impulses aimed at Aboriginal people.  Surely these should not be the values and institutions we invite to mediate our intimate relationships, with all their complexity, emotion and pleasure and pain.  With all of their historical and social meaning and potential.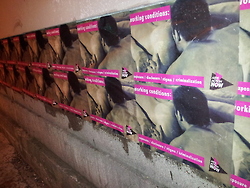 Use the posters launched here tonight as your guide for Thinking Twice and inviting others to do so.  Every poster demands our attention and demands that we Think Twice about the forces that drive the HIV epidemic in Canada, and drive the criminalization of people living with HIV.
We are asking you to Think Twice and to reject actions based on anger, fear, phobia, and ignorance.  To reject the all-too socially acceptable drive to seek retribution and punishment above all else.
We are asking you to Think Twice, to choose progressive values over punitive values.  To act in solidarity and compassion, with a deep sense of responsibility to one another and empathy for one another.
Progressive values have allowed gay men, and all marginalized people, to survive and sometime even flourish in the midst of the HIV epidemic.  To survive and sometimes flourish despite government indifference and inaction.  In the face of extreme social stigma, indifference and even violence.  Even while many of us died.  Even while our friends and lovers died around us.
The AIDS epidemic—the AIDS crisis—is not over.  The criminalization of HIV is one of the surest signs of the ongoing AIDS crisis.  It is also a force that continues to drive the HIV epidemic—driving the most marginalized amongst us underground and to the margins. Away from the people and organizations and programs we rely on to stay healthy and safe.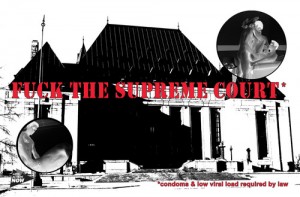 Individually and collectively we must Think Twice before going to the police to lay charges.  Think Twice before empowering the criminal justice system to create more "innocent victims" and "AIDS killers" in our communities.   As AIDS activists we have a long history of fighting against simplistic, punitive solutions to complex social problems—of fighting for human dignity and human rights, for justice and fairness.  We urge you to join us in this vital work."