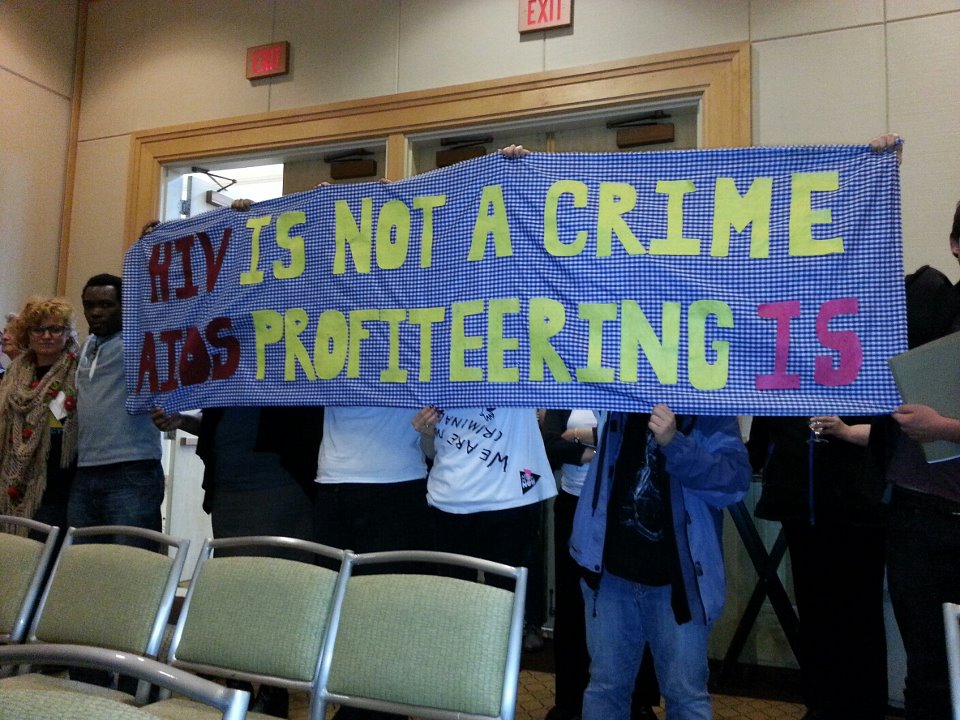 Saturday, April 13, 2013 - At the Canadian Association of HIV/AIDS Researchers conference in Vancouver AIDS ACTION NOW! led people living with HIV, researchers, and doctors to stand in solidarity and call for members of the Canadian HIV research community to stop acting as paid expert witnesses on the side of Crown prosecutors in HIV non-disclosure trials.
Over 50 demonstrators stood behind a sign that said: "HIV is not a crime. AIDS Profiteering is" during Dr. Robert Remis' abstract presentation. Dr. Remis is a prominent epidemiologist who is responsible for Ontario's provincial epidemic surveillance, and is also a paid expert witness for the Crown in many HIV non-disclosure trials.
AIDS activists have been increasingly angered at the perceived conflict of interest practiced by this scientist and that he financially benefits off the lives of people who are prosecuted in relation to HIV non-disclosure. In one case, Remis' testimony in the pre-trial led to charges being increased from assault to aggravated assault. Remis is also a member of the Canadian Association of HIV/AIDS Researchers and was a abstract reviewer for the conference's Epidemiology and Public Health Sciences track.
Jessica Whitbread of AIDS ACTION NOW! stated, "We are calling on HIV scientists and doctors to take a moral stand and stop perpetrating HIV stigma against those of us living with HIV. If we are to end stigma and HIV criminalization we need to act in our own movement first."
The protest was silent and strong with members leaving their seats in the front row to come and join the demonstration. One member of the audience who joined the demonstration stated, "When I looked back I saw a dense wall of fierce women activists and it gave me the chills to know how powerful they were. Then I got up and joined them." Another member of the protest said: "We need to stand for something or else we will compromise for anything." 
Demonstrators handed out a flyer that said:
Dear Doctor,

It's your duty to actively oppose the criminalization of people living with HIV.

Use your title and platform to promote science, reason, and social justice. Speak out against the further marginalization of populations you serve and study.

Criminalization perpetuates stigmatizing misinformation, fear, and hatred. Testifying in support of prosecution appeases oppression. You know that this miscarriage of justice contradicts science and public health so retaliate.

Strongly advocate for universal access to HIV education, testing, and treatment, and say NO to the criminal prosecution of people living with HIV!

Sincerely,

Integrity