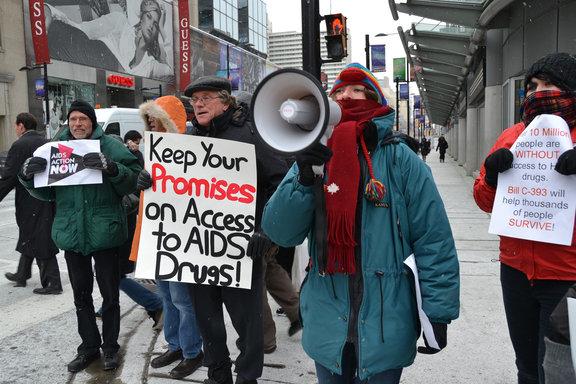 Bill C-393 is an important humanitarian bill that aims to reform our flawed Canada's Access to Medicines Regime (CAMR), making it easier for Canada to export affordable, life-saving generic medicines to the people living in developing countries who desperately need them. Since its introduction, this private member's bill has faced fierce opposition from certain politicians and the brand-name pharmaceutical industry. It has also commanded strong support from civil society and 80% of Canadians, and despite all odds, the bill will be entering its 3rd and final reading in the House of Commons on Monday, January 31st.
At this time, Bill C-393 is currently without a formal sponsor in the House of Commons. Its original sponsor, NDP MP Judy Wasylycia-Leis (Winnipeg North) stepped down from her seat in April last year. Her colleague, Brian Masse, the NDP's industry critic and MP for Windsor West, has taken up the cause as champion of Bill C-393 before the Committee and as would-be sponsor of the bill in the House. Transferring Bill C-393 to a new sponsor will require unanimous consent of the House of Commons, which means that a single opposing voice is enough to deny the bill a new sponsor effectively killing the bill on this procedural technicality.
The Legal Network and its allies on this campaign have been working hard to secure a commitment from each of the parties in Parliament that their MPs will agree to a new sponsor for the bill. So far, we have received commitments from the three opposition parties - the Liberal, the New Democrats and the Bloc Quebecois - that they will not block the motion for a new sponsor. Unfortunately, we have yet to receive any confirmation from the Conservatives, and there are real concerns that they will try to kill the bill by blocking a motion to accept a new MP as sponsor of Bill C-393, even though it enjoys support from MPs from all parties and should be allowed its democratic due course and be debated on its merits.
You can stop this from happening! Take action by visiting www.letparliamentvote.ca today and let Prime Minister Stephen Harper and the Conservative Party's House Leader, John Baird, know that it would be outrageous to block Bill C-393 by denying it a fair vote in the House of Commons. To find out more and get involved, read the Legal Network's Fixing CAMR backgrounder and visit www.aidslaw.ca/camr.
Photo credit: Andrea Houston