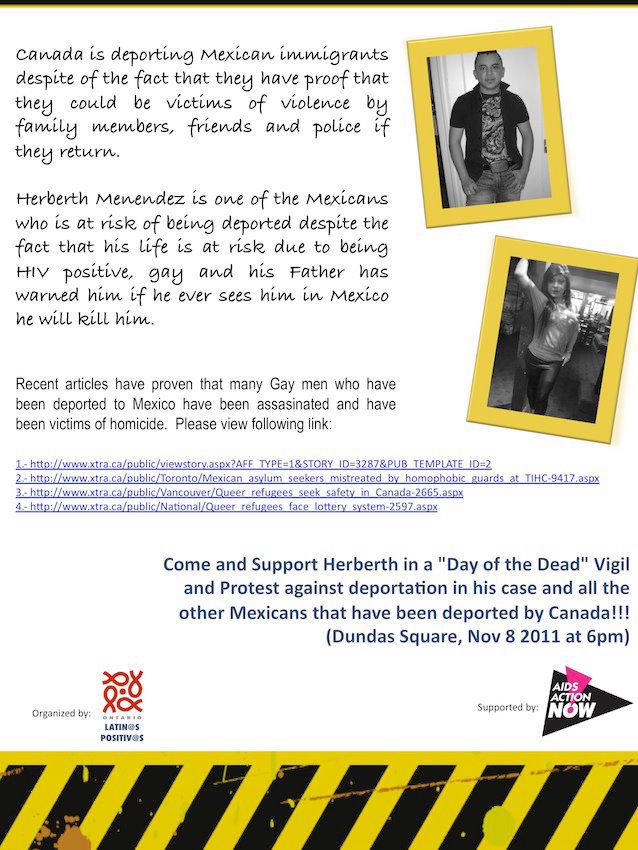 Call for Immigration Canada to stop the deportation of gay refugee claimants who are living with HIV and face extreme violence if sent home!
To show support for Herberth and call for him to stay, friends of Herbeth, concerned community members, Latinos Positivos and AIDS ACTION NOW! will be holding a support vigil of at Yonge and Dundas Square on November 8, 2011 at 6pm. Facebook event page here.
Join Herberth's support page on Facebook here.
Herberth Menendez is a 30 year old Mexican citizen who immigrated to Canada in 2007. He left Mexico to claim refugee status in Canada because he feared for his life due to the intense discrimination and threats of physical violence he faced for being openly gay and living with HIV. Despite having submitted detailed proof of the homophobia and HIV discrimination he has faced in Mexico, Herberth is currently in the final stages of his Pre-Removal Risk Assessment Application. His lawyer has told him there is very little likelihood of his application will be accepted.
Canada has a record of deporting immigrants from many Spanish speaking countries, including Mexico, despite the fact that they have proof they will face violence in their home country if they return.The Mexican Government continues to put up a façade for Canada that homophobic murders do not take place there. However, we sadly hear of cases very often where gay men have been assassinated in Mexico for their sexual orientation or HIV status.
Herberth left Mexico to escape persecution from his neighbours and his own father because he was openly gay and is living with HIV. He was thrown out of his family home by his father and told never to return or he would personally kill him. When Herberth found out he was HIV positive, he suffered discrimination by friends and family and dealt with the intense stigma that exists in the medical community when he sought out health care in Mexico. Nurses and doctors would disclose his HIV-positive status without Herberth's consent in front of other patients in the clinic without any conscious effort of respecting his confidentiality.
Herberth came to Canada to try and get support and leave a climate of fear and stigma he faced in Mexico. In Toronto, he found Latinos Positivos, an organization dedicated to supporting members of the Latin community who are living with HIV. Members of Latinos Positivos have now become Herberth's family in Canada. He has volunteered for Latinos Positivos since his arrival and in 2011, Herberth's drag persona Ashanti Silman was crowned Miss Latinos Positivos. In this role, Herberth has performed at and supported several fundraisers for the organization and helped raise funds for and awareness of their programming. Most recently he contributed efforts towards the production of a pamphlet about HIV and stigma in the Latin community with the Centre for Spanish Speaking Peoples and Latinos Positivos.
For more information on how to help Herberth please contact: aidsactionnowtoronto@gmail.com
Email you concern to Canadian Minister of Citizenship and Immigration, Jason Kenny: Minister@cic.gc.ca and to the Ontario Minister of Citizen and Immigration, Charles Sousa: csousa.mpp@liberal.ola.org
Anna Willats of Las Perlas Del Mar talks about Herberth's case: