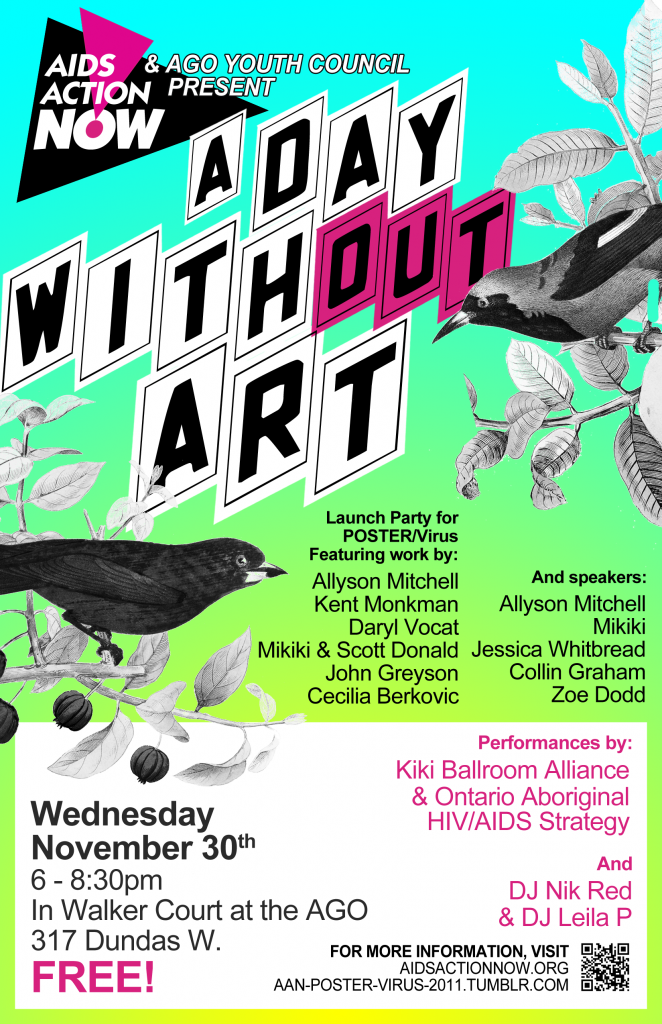 **********************************************
Join us at the launch on November 30th DAY WITH(OUT) ART @ the ART GALLERY OF ONTARIO 6pm-8:30pm
Featuring performances by Kiki Ballroom Alliance and the Ontario Aboriginal HIV/AIDS Strategy
Speakers: Allyson Mitchell/Mikiki/Jessica Whitbread/Zoe Dodd/Collin Graham
DJs: Nik Red/Leila P.
Featuring works by: Kent Monkman/Allyson Mitchell/Daryl Vocat/John Greyson/Cecilia Berkovic/Mikiki with Scott Donald
See the posters here
************************************************
It is 30 years into the AIDS epidemic, and we are still struggling. New forms of AIDS-phobia, discrimination and inequality continue to emerge including the increasing criminalization of people living with HIV. In Toronto, we are still facing proposed cuts to municipal funding for essential social services to address HIV, Hepatitis C and Syphilis. Federally in Canada, the clim

ate of fear and austerity are increasing health inequalities for us all. It is clear that now more than ever, activism and art are needed to reinvigorate the response to HIV and AIDS.
This year, AIDS ACTION NOW is working to create a different kind of dialogue around HIV, in the art world, and on the street, in ways that hasn't happened for a long time. Join us on November 30th for the Day With(out) Art: A fusion of HIV/Art/Activism at the Art Gallery of Ontario from 6-8:30pm.
In honor of the Day With(out) Art 2011, AIDS ACTION NOW has launched a poster series created by local Toronto artists Allyson Mitchell, Kent Monkman, John Greyson, Daryl Vocat, Cecilia Berkovic, and Mikiki with Scott Donald. The posters were developed collectively with community members working to respond to HIV. The posters aim to address important issues facing our lives as people living with HIV and/or who are co-infected with HIV and Hepatitis C including sexual rights, harm reduction, criminalization of HIV exposure, and the need for political action to address the epidemics.
Through merging the worlds of art and activism we are intentionally evoking the history of creative responses to HIV. Our aim is to provoke discussion, controversy and dialogue in a way traditional activism cannot. See the posters here (and watch as they are emerge around the city over the next 2 weeks).
AIDS ACTION NOW! POSTER/virus: aan-poster-virus-2011.tumblr.com
Facebook event: www.facebook.com/event.php?eid=123780651065997
Acknowledgments: We would like to thank the Ontario Aboriginal HIV/AIDS Strategy, the International Community of Women Living with HIV (ICW), the Toronto Drug Users Union, the AIDS ACTION NOW! Steering Committee, Doe O'Brien Teengs, Andrew Brett, Zoe Dodd, Len Tooley, Nicole Greenspan, Tim McCaskell, Brent Southin, Allyson Mitchell, Kent Monkman, John Greyson, Daryl Vocat, Cecilia Berkovic, Scott Donald, Mikiki, the AGO Youth Council, and the York University Faculty of Environmental Studies Community Arts Program.