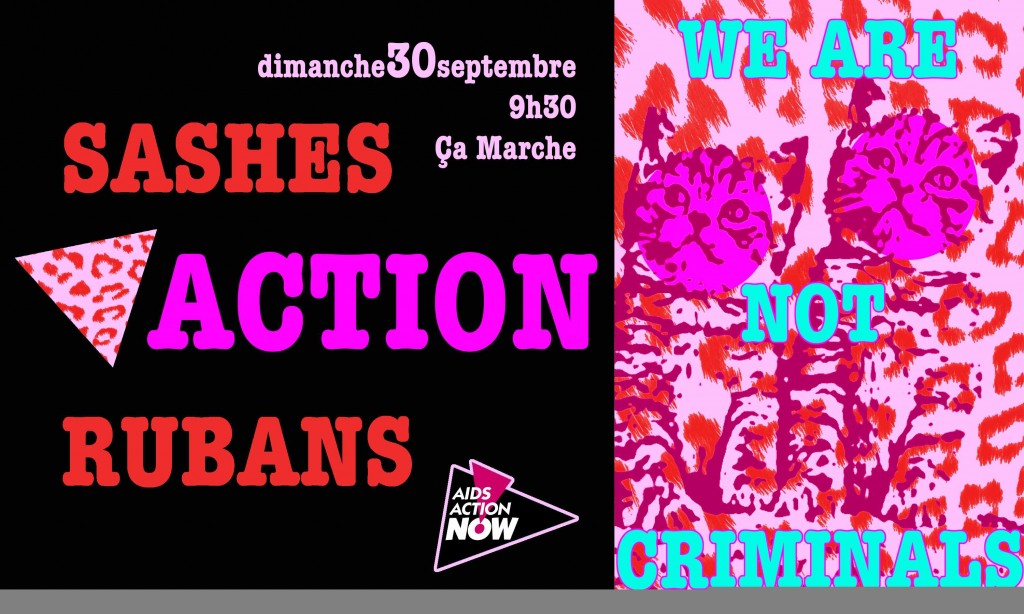 La lutte que mène le gouvernement fédéral contre les droits humains est fondée sur une politique moralisatrice, plutôt que sur les faits. Les attitudes stigmatisantes de ce gouvernement vont à l'encontre de la science et de la dignité, et ne font qu'empirer l'épidémie du VIH dans les prisons et dans la population générale.
Joignez-vous à la brigade AIDS ACTION NOW! Pour Ça Marche et manifestez contre la criminalization des personnes atteintes du VIH. Nous vous invitons à porter des écharpes sur lesquelles nous écrirons cette revendication: METTEZ FIN à LA CRIMINALIZATION des personnes séropositives!
Réunion bricollage d'écharpes et création d'enseignes à ACCM, mercredi le 26 septembre, 19h, 2075 Plessis
Meet up for sash and sign crafting at ACCM Wed Sept 26 @ 7pm, 2075 Plessis
The Federal Government's crusade to destroy human rights and promote policy based on moralistic and stigmatizing attitudes, rather than with evidence, science and dignity is actively driving these epidemics in prisons and in the general population.
Join us in speaking out against the criminalization of people living with HIV: wear a sash at Ça Marche! and walk with AIDS ACTION NOW!
Dimanche le 30 septembre, à 9h30, Place Émilie-Gamelin
Sunday September 30, 9:30am
Facebook event here!
contrecriminalisationvih.blogspot.ca
Ça March website