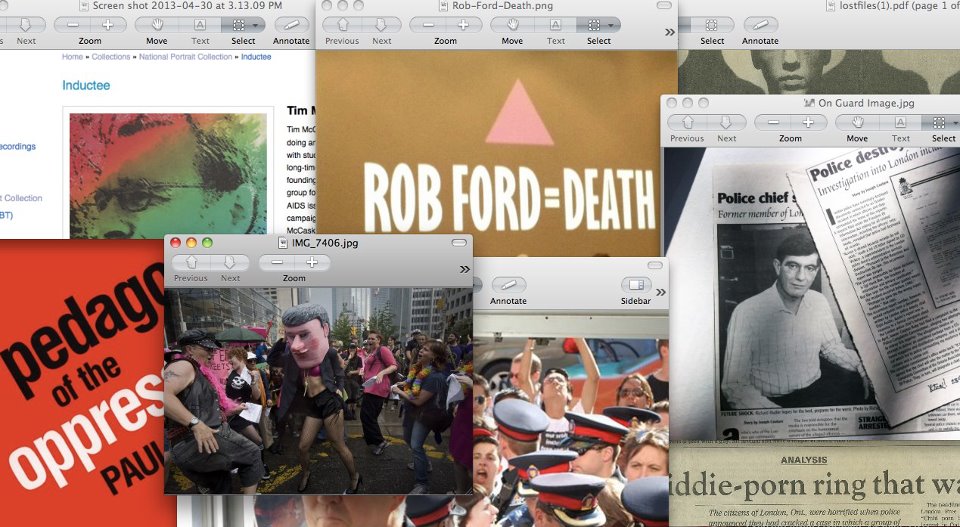 STILL ON GUARD
A PUBLIC DISCUSSION ON QUEER BODIES IN CANADA
With AIDS ACTION NOW, and Queer Ontario

Facebook event page, here.
Sunday May 12, 2013
2 to 4pm
Canadian Lesbian and Gay Archives
34 Isabella Street, 2nd floor, wheelchair accessible
Free, light refreshments will be served
Everyone is Welcome
From the Bathhouse raids to HIV Criminalization queer bodies have long been under attack in Canada.
Join us for this public discussion where we will talk about the ways in which LGBTQ+ bodies are ignored, displaced and criminalized. Meet artists, activists, friends, and neighbors. Hear what they are doing to push back, make space, and create a better world.
With a reading by Gerald Hannon, and screening John Greyson's "After the Bath".
More information:
In the late 90s, Hudler spoke out against Julian Fantino's London Police Force for Project Guardian, their witch-hunt of an investigation, which honed in on the sex lives of a group of men. Hudler, along with…. released a report called ON GUARD, which is where this event derives it's name.
About the exhibition:
The Practice of Everyday Freedom:
Richard Hudler and Rupert Raj,
curated by Aidan Cowling and Ted Kerr
The practice of everyday freedom is "the means by which people deal critically and creatively with reality and discover how to participate in the transformation of their world." Pablo Friere
The exhibition makes use of the Canadian Gay and Lesbian Archives and the Pride Library of Western Ontario to provide context for the outstanding contributions of Hudler and Raj, trailblazers in asserting their lives in matter in the face of ongoing oppression as experienced by many Canadians.
Through the use of letters, manuscripts, newspaper articles, and other ephemera, viewers will gain a sense of the everyday freedom as lived by the men. Through the journey of engaging in common details, and historical highs, viewers can see Hudler and Raj as both exceptional for their contributions, and emblematic of other LGBTQ+ Canadians, who through their practice of everyday freedom, transform lives by living, increasing the life chances for those around them.
A hope is that the exhibition will broadcast the achievements of Hudler and Raj, while also communicating the idea that they are as special as any viewer. In this way, LGBTQ+ viewers will understand the NPC and the CLGA, as a space for all of us.
While some may have portraits in the collection, we all have a place in the archives.